COIR MAT FOR ROAD PAVING
Coir mat is a kind of eco-friendly mat made from coconut fiber which is found between the hard, internal shell of the outer coat of a coconut. After fully mature coconuts are harvested, they are put into machines to separate the long bristle fibers underneath the skin of the nut. This process is called wet-milling. Next, these coconut fibers are twisted into thicker and stronger strings which are then tied into coir mats. The coir fiber is relatively waterproof and is one of the few natural materials that are resistant to damage by seawater.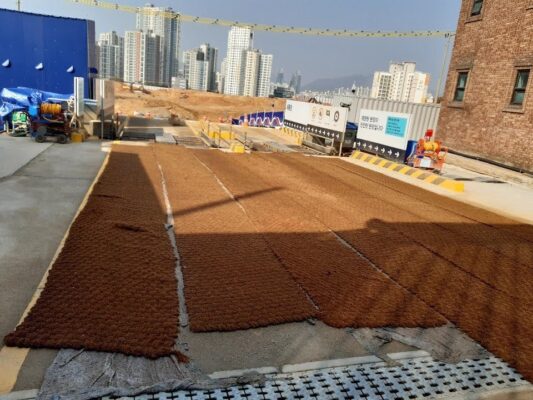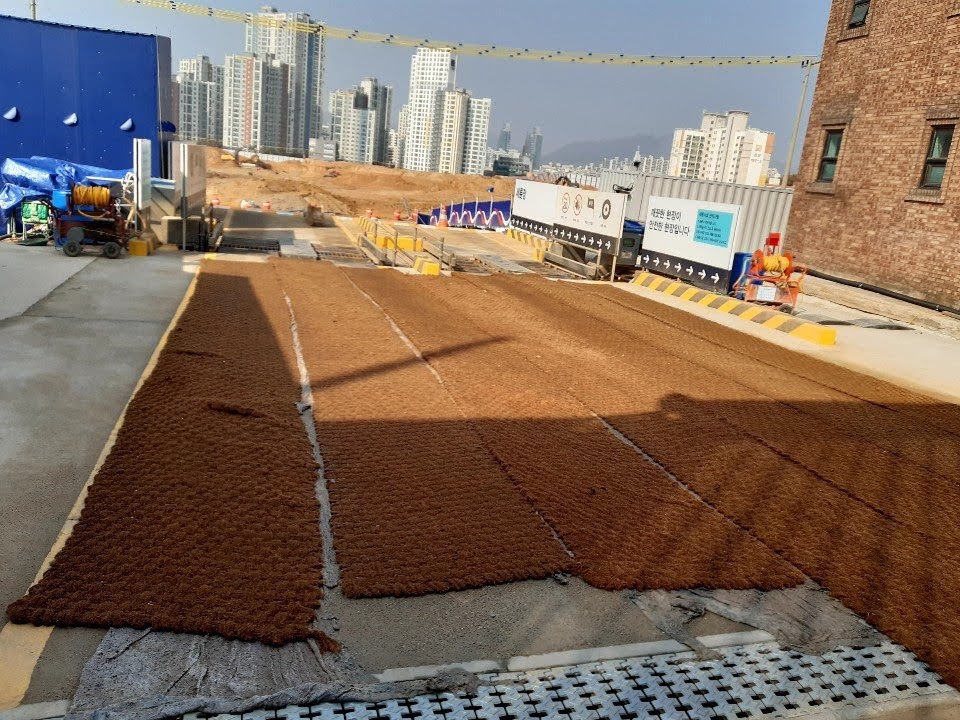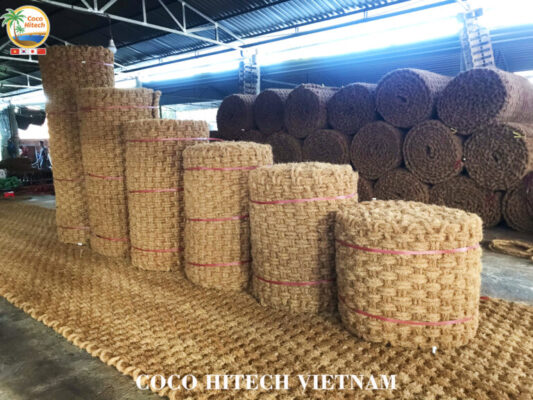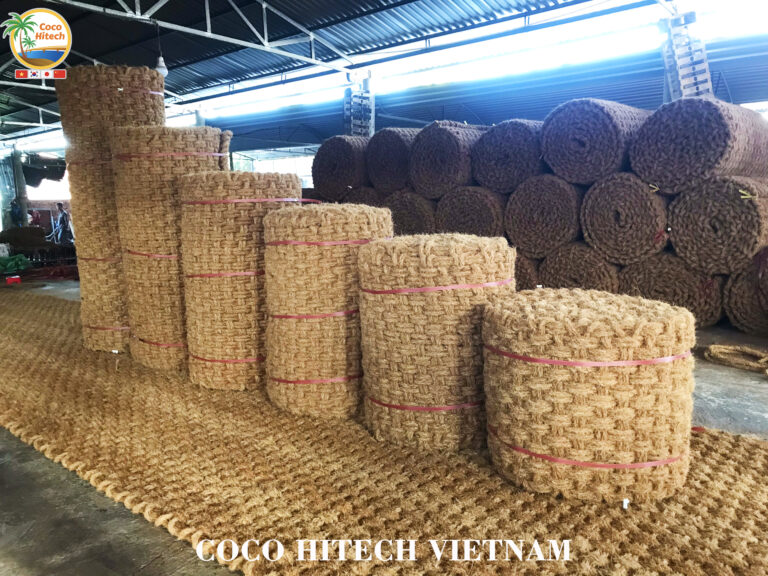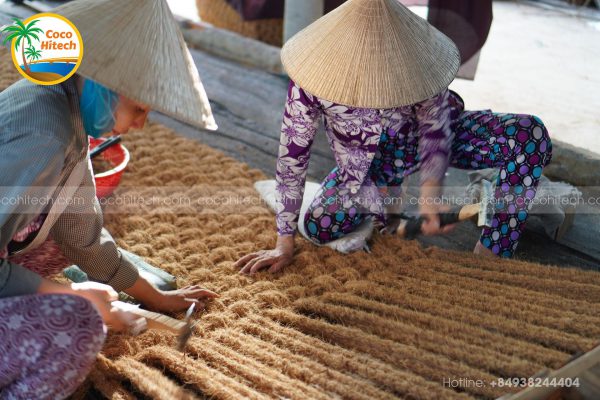 COIR MULCH MAT FOR PROTECT TREE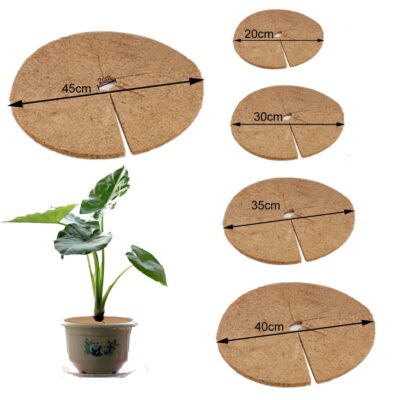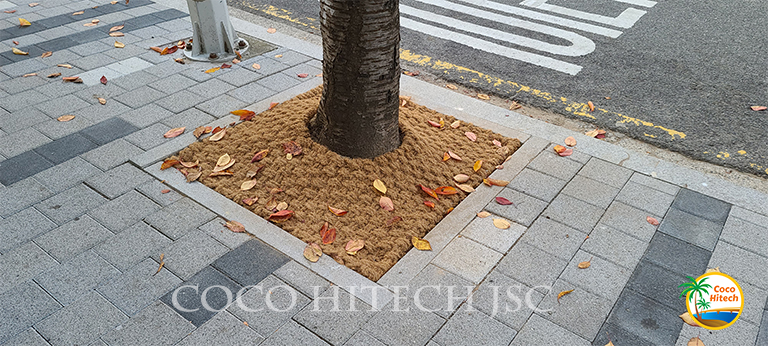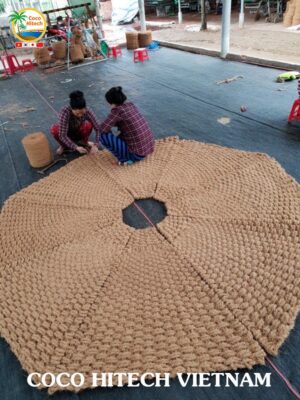 Coir mulch mat is made from 100% natural coir fiber which is found in the inner part of the coconut shell. Coir fiber is used in making a variety of bio-friendly products that help with environment problems such as soil erosion control coir mat, coir mesh, eco log, coir mulch mat,…etc. Coir mulch mats are used widely in countries having severe winter weather such as Korea. Coir mulch mats are mainly used to protect the underneath part of the trees through the winter and also are used as trending decoration for streets.
COIR MATRESS  FOR BED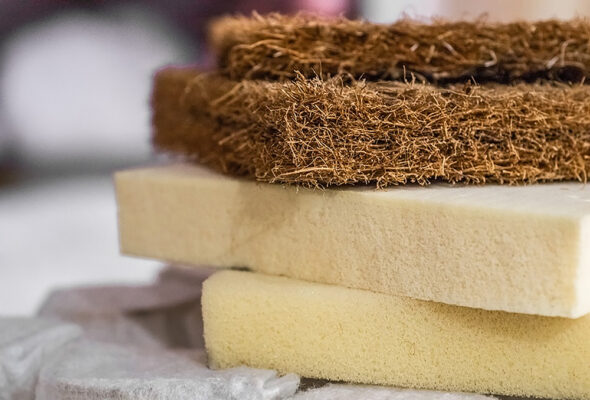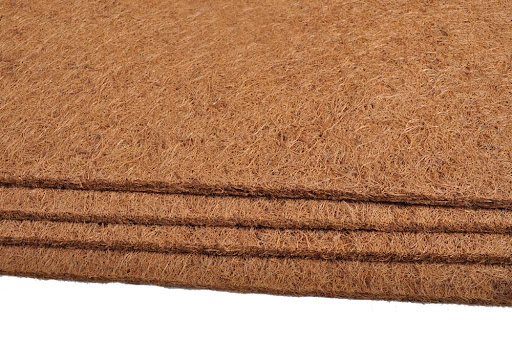 Coir mattresses come with the highest recommendation for good development of bones. This makes them perfect for people with younger children whose bones are still developing. They are also a preferred choice for the elderly as they offer great support to the back and thus alleviates back pain in the elderly if any.
Besides, coir mattresses are also fire-resistant and thus the safest choice for mattresses for your home!
Types of Coir Mattress
Coir mattresses can be essentially categorized into two types i.e. hybrid coir mattresses and rubberized coir mattresses. Hybrid coir mattresses comprise layers of coir as the primary raw material and other secondary materials such as foam or latex.
If you want to buy coir products at high quality with competitive price. Kindly contact our multiple sales team.
대표: Mr.Ryan (Vietnam): +84 938244404 (Kakaotalk, Wechat, Whatsapp)
Ms.Lan ( 한국 영업 담당자 ): +84 969273598 | Kakaotalk ID: hoailan98
电话 (阮秀钗) +84 933320776 微信ID:TuTram1008
Ms.Vi (中文):+84397317401 微信ID:NTTV_0608
Ms. Lien(中文) : +84855062356 ; 微信 ID: liantigon284
日本 : +84 965106010 (Line)
Website: https://cocohitech.com/
Website: https://kr.cocohitech.com/
Website: https://cocohitech.jp/
Youtube: https://www.youtube.com/watch?v=X7uwnNDKJ4M&t=70s