What is erosion coir net? 
Erosion coir net, also known as a coir erosion control net or coir matting, is a biodegradable and eco-friendly material used for erosion control and soil stabilization in various landscaping and environmental restoration projects. It is made from coconut coir fibers, which are derived from the husk of coconuts. Coir erosion control nets are particularly useful in preventing soil erosion, promoting vegetation growth, and protecting vulnerable areas from the adverse effects of rainfall and water flow.
Today, COCO HITECH will show you type of erosion coir net in Vietnam:
Coir net 200 gsm, coir net 400 gsm, coir net 700 gsm: What is difference? 
Where is coir net used?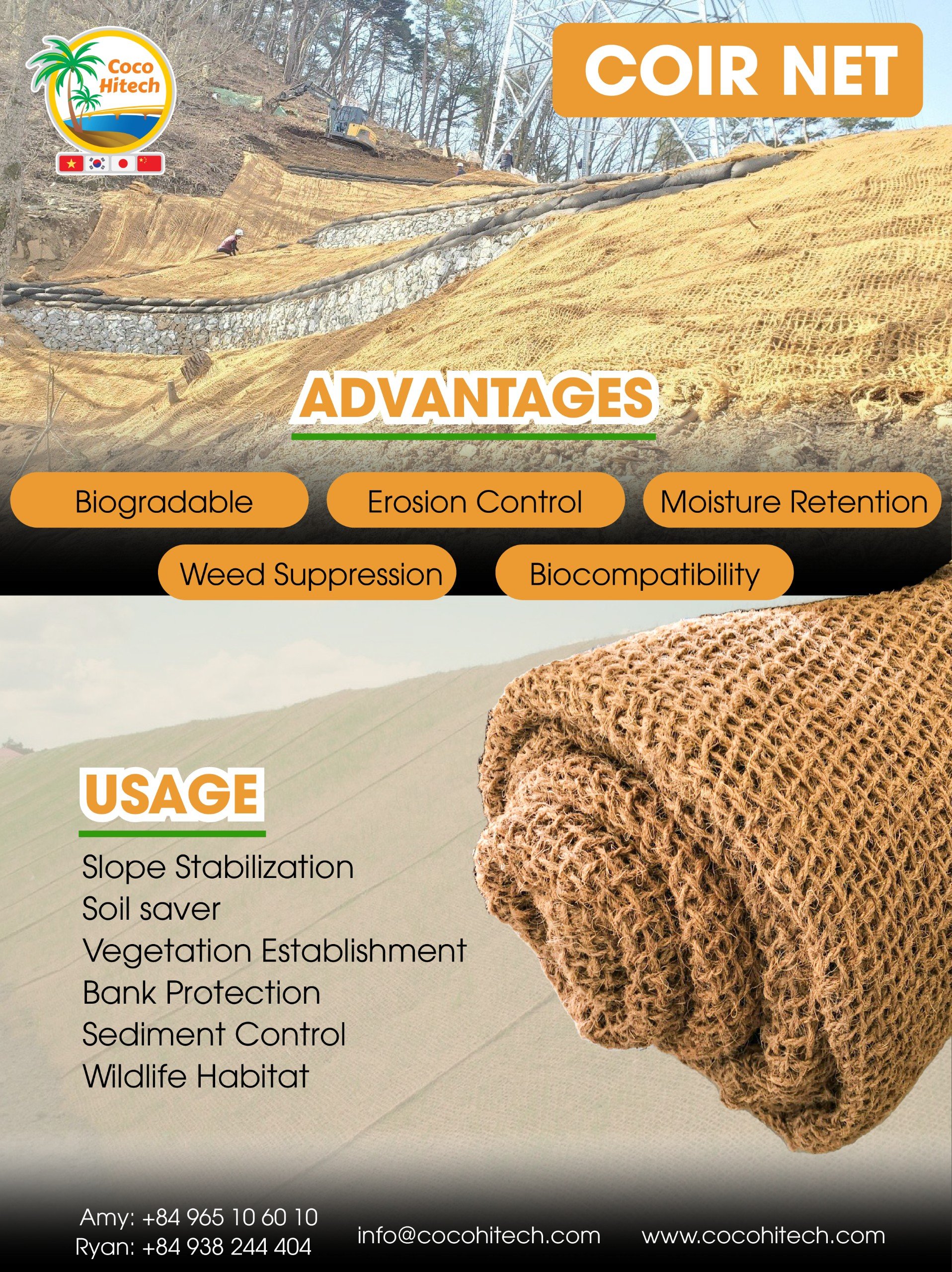 COCO HITECH is proud to be the top manufacturer of coconut products such as: coir shade sail, coconut shade sail, coconut fiber mat, coir shade sail, coir mat, coir net, coir fiber mat products at high quality with competitive price. Kindly contact our dedicated sales team.
대표: Mr.Ryan (Vietnam): +84 938244404 (Kakaotalk, Wechat, Whatsapp)
Ms.Lan ( 한국 영업 담당자 ): +84 969273598 | Kakaotalk ID: hoailan98
电话 (阮秀钗) +84 933320776 微信ID:TuTram1008
Ms.Han(日本) : +84 974819071 I Line: cocohitech.info
Ms.Vi (中文)+84397317401 微信ID:NTTV_0608
Amy (English) : +84 965106010 (WhatsApp, Kakao, Line)
Website: https://cocohitech.com/
Website: https://kr.cocohitech.com/
Website: https://cocohitech.jp/