Due to the uncontrolled exploitation of the natural resources deeply inside land, soil erosion has become one of the most serious problem that the world is facing up with. Several solutions has been proposed, and erosion control coir mat is one of the most effective solution acknowledged by many countries around the world. Erosion control coir mat is being used widely in different parts of the world, including both developing countries and developed countries. Vietnam is one of the countries having the largest output of coir mat every year. Vietnamese coir mat is preferred by many countries due to its good quality and price.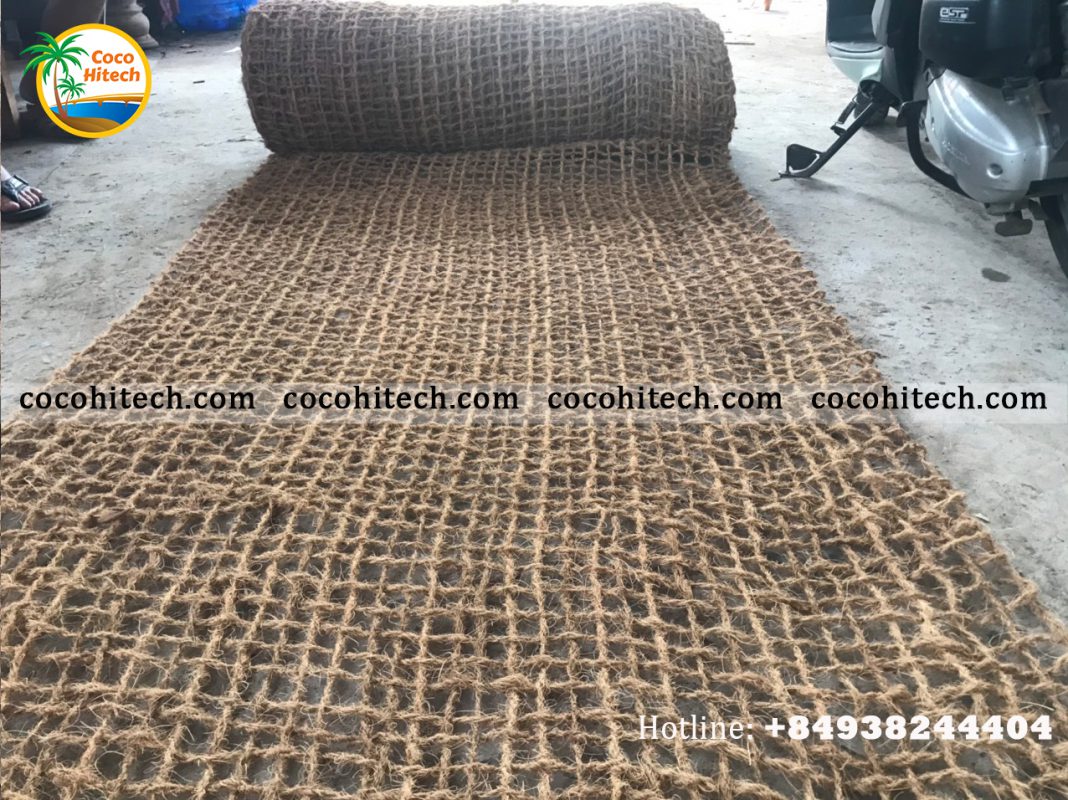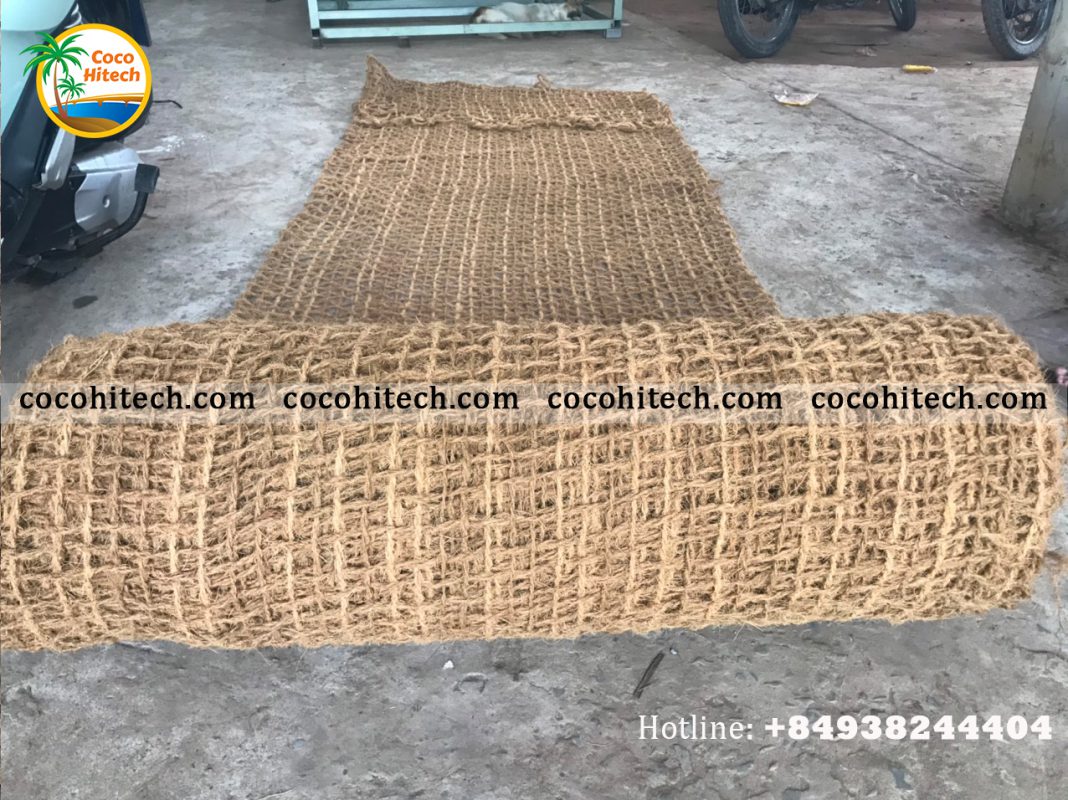 What is erosion control coir mat ?
Erosion control coir mat is made from the same material as the coir door mats often used in household but it is much bigger in size. Erosion control coir mat is made from only one material – coconut fiber. Coconut fiber extracted from coconut shells after being sun dried will be put into coir rope making machine to be converted into long and firm coir ropes which are 16-18mm in thickness. Then, these coir ropes are knitted tightly to become coir mats which are often made 10m long and 35mm thick.
Coconut fiber is a great material in absorbing water such as rain to prevent the washing of soil. Besides, it can also protect the soil and keep the nutrition essential for the development of plants. By the use of coir mat, the quality of soil is maintained from times to times. Coir mat provides favorable environment for the growth of plants, which helps keep landscape away from the threat of deforestation. It can be said that coir mat is an important element in protecting soil and preventing soil erosion.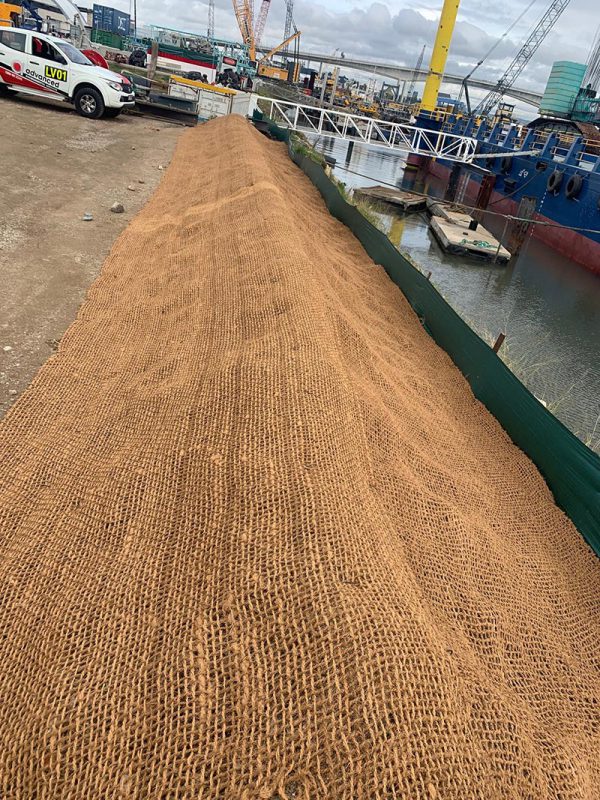 Erosion control coir mat of Vietnam
Ben Tre, which is a region in the South of Vietnam, is known as the land of coconut as there is a vast area of coconut trees here. As a result, there is always an abundant resource of coconut shells in this area. By utilizing the wasted coconut shells to produce useful eco-friendly products such as coir rope, coir mat, coir net, many Vietnamese farmers have chance to improve their life quality and bring unique products of Vietnam to foreign business partners.
Vietnamese coir mats are made from high quality coconut fiber so each coir mat has duration up to 5 years. Thanks to the abundance and the availability of input material resource, the price of Vietnamese coir mat is considerably cheaper than that of other countries.
How to buy Vietnamese erosion control coir mat
Coco Hitech is the manufacturing and exporting company which provides convenient import-export service by which foreign business partners can easily order Vietnamese coir mat of good quality with the best price. With the access to many reliable shipping companies located in many different countries, Coco Hitech JSC ensure that you will receive your coir mat safely at the drop of a hat. With big factory and more than 30 experienced workers, Coco Hitech JSC is making Vietnamese coir mat of the best quality for the benefit of our business partners. Would you like to collaborate with Coco Hitech JSC to make contribution to a more sustainable life ? Please contact us for further information. We always welcome your inquiries about our company and our products.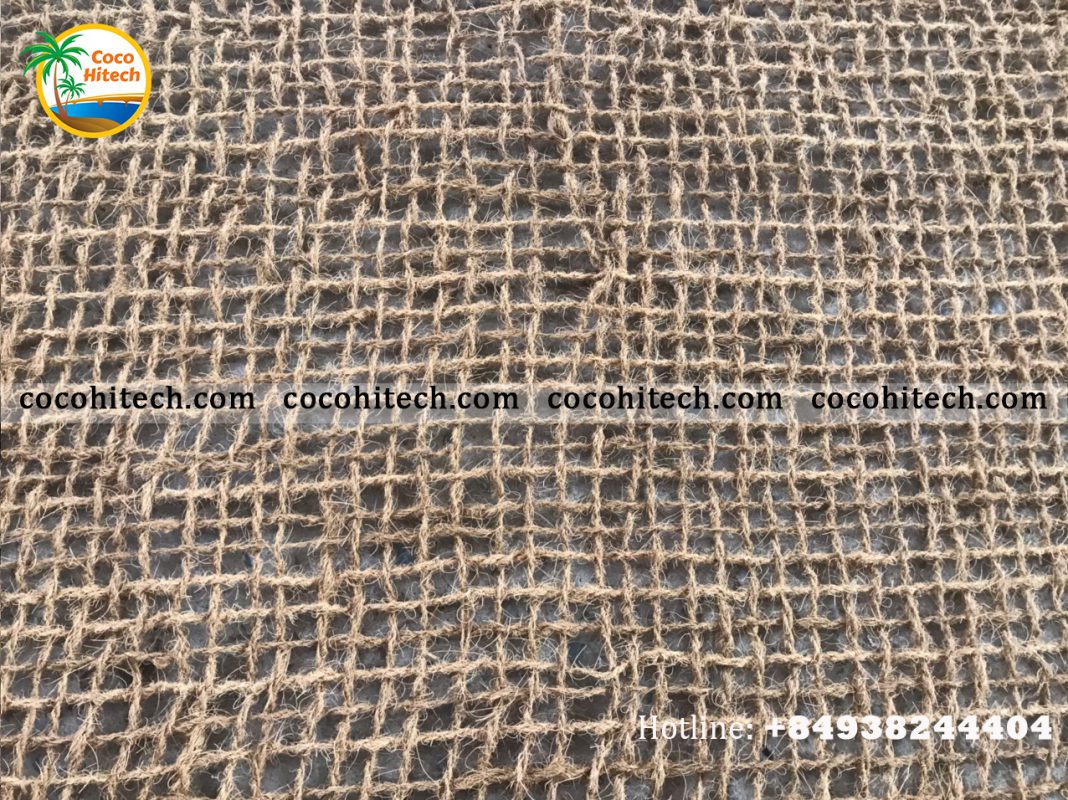 Representative: Mr. Ryan ( Vietnam ): +84 938244404
Miss Lan ( Korea ): +84 969 273 598